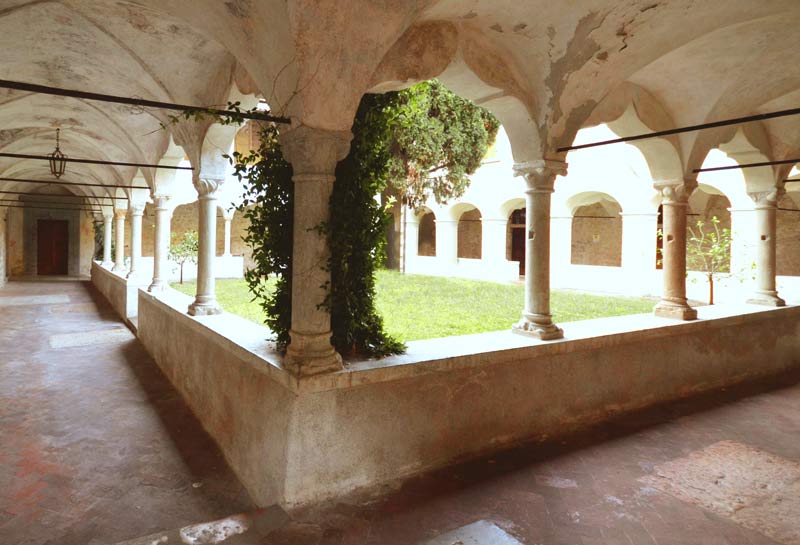 LOCATION: GARGNANO
The Church and Cloister of Saint Francis
The ancient Franciscan convent in Gargnano was built around the mid-thirteenth century. Though it did appear in historic documents until 1266, it is believed to have been founded by Saint Francis himself around 1220.
The cloister of the convent, built at the beginning of the fourteenth century, has some unique characteristics. There is an elegant row of oriental-style arches of Venetian origin that rest on columns adorned with capitals depicting all different naturalistic motifs, among which various forms of citrus fruit can be made out. It is this particularity that permits historians to give credence to the local belief that it was the Franciscan friars who introduced the cultivation of lemons on the shores of Lake Garda.
The cloister preserves some ancient fragments of Gargano history, including two Roman epigraphs and a municipal coat of arms from the fifteenth century. The Renaissance portal that connects the cloister to the sacristy of the church is also appreciated for its richly decorated scenes from Jesus' childhood.
The adjoining Church of Saint Francis was built before 1289, which was the first year it is documented with certainty. Its exterior still retains its original Romanesque appearance. On the simple facade there is a bas-relief depicting Saint Anthony of Padua made in 1301. The interior of the church was entirely renovated at the end of the seventeenth century. At the center of the sanctuary there is the main marble altar made by the Trentino stonecutter Cristoforo Benedetti. To the left of the presbytery there is a chapel dedicated to Saint Mary Magdalene, which preserves the seventeenth-century wooden altar from the Church of Saint Mary Magdalene of Gargnano, which no longer exists.
The side altars dedicated to the Immaculate Conception, Saint Jospeh, the Guardian Angel and Saint Anthony of Padua are splendid baroque works in polychrome marble, which preserve important artistic pieces, among which is the altarpiece of Saint Anthony of Padua created by the well-known Venetian artist Andrea Celesti.