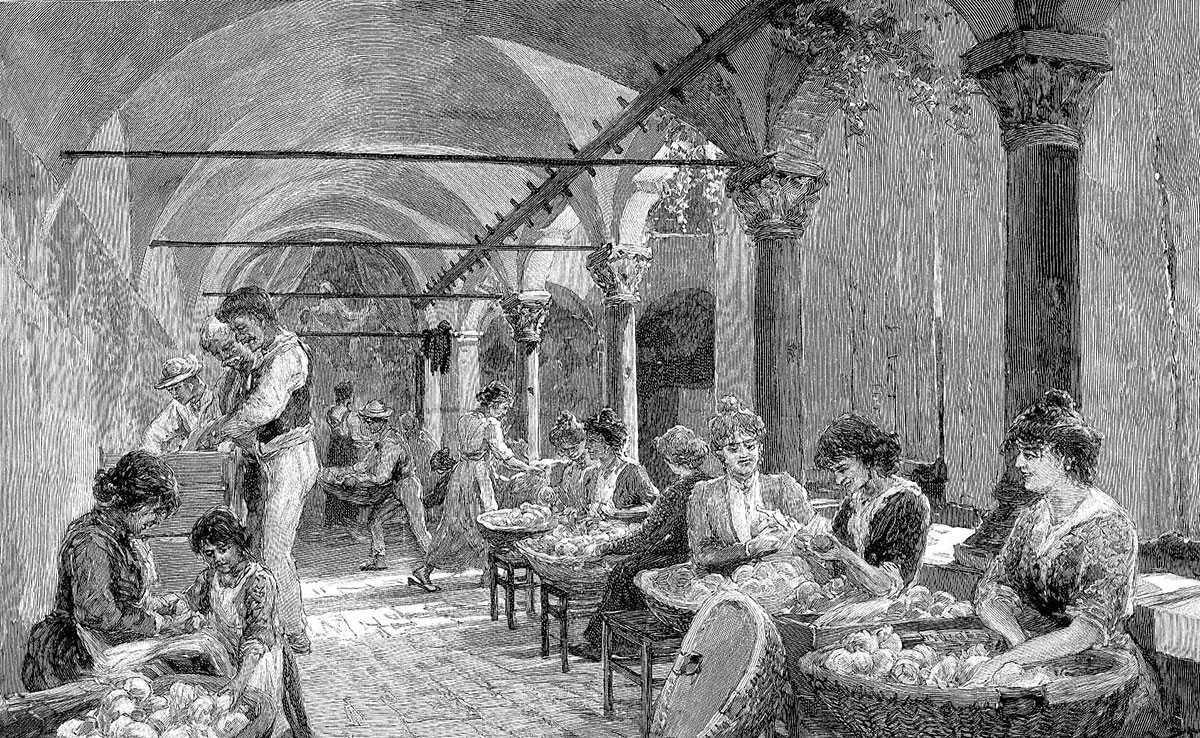 To ensure the best marketing of its citrus fruits, the lemon grove owners joined together under the direction of Giuseppe Pederzani and in 1840 established the Società Lago di Garda (Lake Garda Cooperative) in Gargnano - then center of the Lake Garda citrus fruit cultivation - based on the premises of the ancient Saint Francis convent.
On the lake shore, a room for sorting lemons was built into the former convent: a large square-shaped room with a roof supported by elegant cast iron columns with a lovely view of the lake front framed by a sequence of glass arches.
The years of maximum production for the cooperative were those between 1840 and 1860, with about 125 million lemons, with a peak of 9.7 million in 1852 (of which seven million were from the Gargnano lemon groves only), compared to an average annual production of between six to seven million (of which four to five million came from Gargnano).

As the cooperative's decline occurred alongside the fall of the lemon harvests, which was due to the citrus growing crisis, it simultaneously began to develop its production of laurel and then olive oil. In 1879 a factory was built, equipped with six large boilers with direct heat, for the extraction of laurel oil, which was highly requested at the time for its pharmaceutical and cosmetic purposes. Then, for the production of olive oil, a special building was constructed on the lakeside, next to the lemon sorting room. The production of olive oil became the main and most profitable function of the cooperative until the late 1980s, when all activities were suspended.

The buildings that made up the cooperative's seat are currently unused, but are awaiting restoration and repurposing.

This monumental complex gives testimony to how historic, local crops have been transformed, thanks to the enterprising spirit and initiative of some Gargnanese, into business. The Gargnanese created a commercial enterprise that was unique to the world and made Lake Garda produce known all over Europe, while they also provided a good income for local farmers and made an important contribution to the local economy.