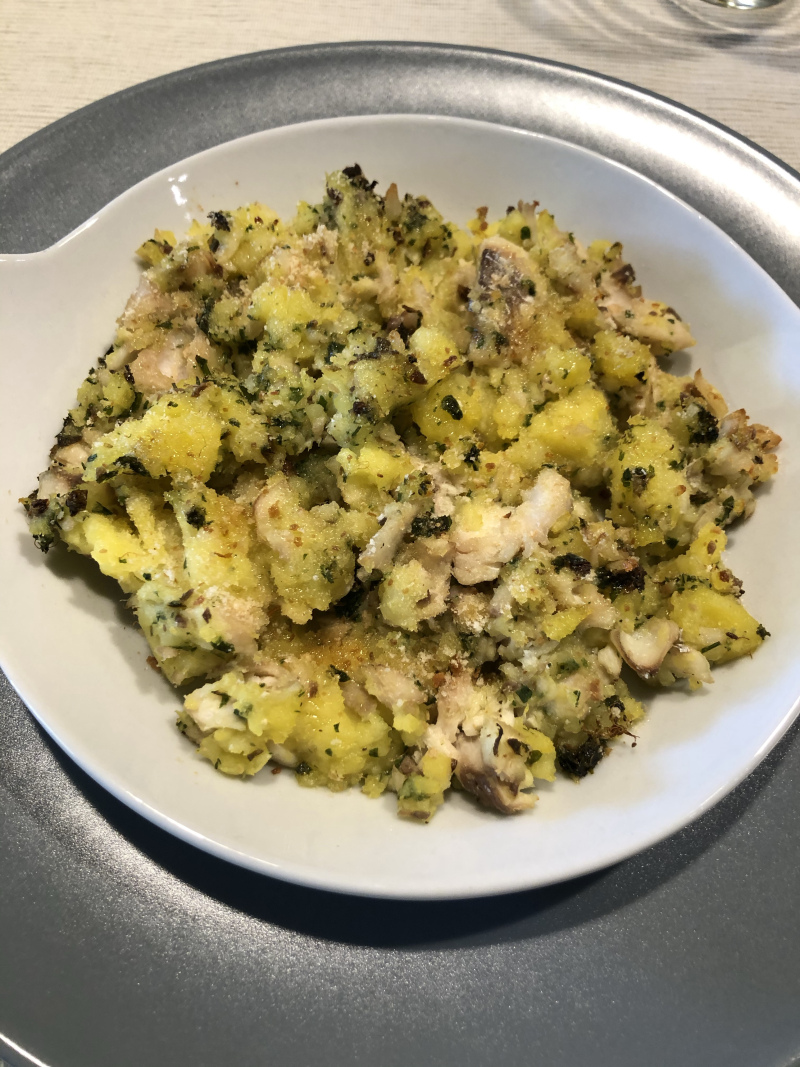 This is a simple but tasty dish that uses all local products from my area on Lake Garda, such as whitefish, capers, lemons and herbs. This does not prevent you, however, from using other types of fish. I had whitefish filets on-hand, but you can boil any whole fish and then divide its meat into chunks.
INGREDIENTS FOR 4 PEOPLE
5-6 whitefish (coregone-lavarello) fillets
4 medium potatoes
2 spoonfuls of Gargnano capers
1 garlic clove
1 handful of chopped parsley
1 lemon peel
4 spoonfuls of breadcrumbs
salt
pepper
Lake Garda extra virgin olive oil
Clean the fillets well, eliminating any bones. Put the fillets in a pan and pour the water over them. Add a little salt and the zest of half a lemon and boil it for 5 minutes. Drain the fish and conserve the water. Peel the potatoes and cut them into small pieces. Put them in the pan where you cooked the fish and cook them. When ready, drain the potatoes and place them in a bowl and mash them with a fork. Break the fish apart with your hands and add them to the potatoes. Set the fish and potatoes aside for a moment and chop the capers (after rinsing their salt away). Put them in a separate bowl with the chopped parsley, add salt, pepper and plenty of olive oil. Then grate the skin of the remaining lemon half and add it to the parsley. Pour the sauce into the fish and potato mixture, stirring gently. Divide the mixture into 4 oven-safe single-portion oven dishes and sprinkle each one with breadcrumbs. Drizzle them with olive oil and bake them at 180°C for 10 minutes.
From "In cucina con Lilly" / incucinaconlilly.com